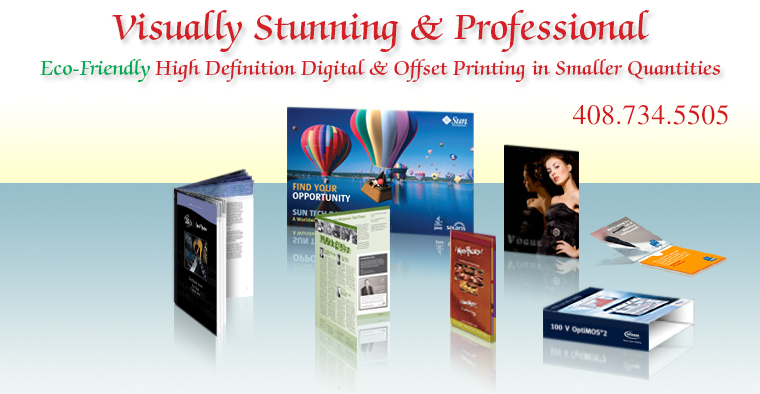 Finally, a destination where you can get a few hundreds of Stunningly
Beautiful Printing quickly to attract more customers and grow your business!


Ideal
Products...

Data Sheets

Flyers

Brochures

Booklets

Catalogs

Manuals

Newsletters

Annual Reports

Year Books

Letterhead

Envelopes

Business Cards

Note Pads

Custom Shaped Decals

Waterproof Stickers

Box Sleeves

Small Boxes

Calendars

Event Programs

Show Invitations

Announcements

Flexible Indoor Magnets

Color Posters

Carbonless Forms

Direct Mail

Menus

Magnetic cards

etc.



High Definition Digital & Real Offset Printing

Eco-Friendly

Vegetable/Soy Inks

90% VOC Reduction

Waterless Inks

No Waste Water

Chemistry-Free Plates

Direct Imaging (DI)

Computer to Plate

Exact Image Registration

Process Colors, CMYK

Spot Pantone Colors

Metallic Colors

Super HiRes 300 lpi

Quantities 300 to 20,000




Finally, a destination where you can get a few hundreds of Stunningly
Beautiful Printing quickly to attract more customers and grow your business!


Ideal
Products...
Data Sheets
Flyers
Brochures
Booklets
Catalogs
Manuals
Newsletters
Annual Reports
Year Books
Letterhead
Envelopes
Business Cards
Note Pads
Shaped Decals
Waterproof Stickers
Box Sleeves
Small Boxes
Calendars
Event Programs
Show Invitations
Announcements
Flexible Indoor Magnets
Color Posters
Carbonless Forms
Direct Mail
Menus
Magnetic cards
etc.

What we do
Do you need a few hundreds of professional printing for an important Event or Trade Show quickly? Here at 2DirectPress Oakmead Printing Inc., we can Digital or Offset Print your important & last minute jobs from 300 to 20,000 usually in one to two days using our Advanced Eco-Friendly High Definition Digital and Direct Imaging (DI) Offset Color Presses.
For almost the same cost as Color Copies at around 300 quantity, you can get Digital or Offset Color Printing, real fast here at 2DirectPress Oakmead Printing Inc.. High Definition Digital & Offset Color Printing give your business more credibility and prevent a small business image associated with Color Copies. They give potential customers more confidence in responding to your offer and attract more profitable business.

Why use us
9 reasons why Creative Designers, Marketing and Art Directors choose 2DirectPress Oakmead Printing Inc. for their last minute and smaller quantity High Definition Digital & Offset Color printing projects.

1. DEPENDABLE & TRUST WORTHY:
Here at 2DirectPress Oakmead Printing, Inc., we have been accommodating our clients special needs since 1985, in Sunnyvale California (the heart of Silicon Valley) and neighboring cities in the Greater San Jose & San Francisco Bay Area. We have been accredited with an A+ Trust Rating by the Better Business Bureau and our Clients rely on us with their urgent and important print projects.



2. ECO-FRIENDLY PRESSES & FACILITY:
Our Eco-Friendly High Definition Digital & Offset Presses print with Dry Toners & Waterless Vegetable & Soy Based Inks that do not produce Chemically Tainted Waste Water. They also use Chemical-Free Printing Plates, and output 90% less Volatile Organic Compound (VOC) than traditional printing presses.
Our presses have computer controlled automation for reduced paper waste and time during job setups and press runs. Our clients get all these environmental benefits without any added costs.
Our facility at 2Direct Press Oakmead Printing Inc. has also been certified as an Eco-Friendly Bay Area Green Business by Santa Clara County and the City of Sunnyvale for protecting, preserving, and sustaining environment through energy & water conservation, waste minimization, pollution prevention, and shrinkage of its carbon footprints.



3. STUNNING & PROFESSIONAL PRINTING:
With every job, you get consistent color, precise image registration and High Definition Near Photographic quality printing. Unlike other Digital Presses, our High Definition Digital and Offset Presses inks are scratch resistant and do not require additional coating, saving our customers extra costs and production time. Also, our printed sheets, such as Letterhead, Press Releases and Envelopes, are "Laser Printer Safe", when used with customers' office desktop laser printers and they do not have "image tracking/running" problems.


4. WIDE SELECTION of PAPER CHOICES:
We can print on Paper listed below as well as Vinyl, Polyester, Synthetic, Magnetic Sheets & Self-Adhesive Labels.
Coated Paper (gloss, silk, matte, dull, satin, velvet)
Uncoated Paper(smooth, wove, linen, laid, felt, eggshell, etc),
25% - 100% Cotton Content,
30%-100% Post Comsumer Recycled Paper,
FSC Certified Paper,
Translucent and Vellum paper,
Thickness from Onion skin to 0.017"


5. ECO-FRIENDLY INK CHOICES:
CMYK Process Colors, Full Color, 1, 2, 3 or 4 Colors,
Spot Color, Pantone Inks, Metallic Inks,
Laser Printer Safe inks,
Eco-Friendly Vegetable/Soy based inks,
Gloss/Matte/Satin Coating,


6. POST PRESS CREATIVE CHOICES:
UV Coating (Gloss, Satin, Dull, Soft Feel)
Foil Stamp, Registered Emboss/Deboss, or Die cut
Film Lamination (Gloss, Dull, Dry Erase)


7. GENUINE:
High Definition Digital & Real Offset Printing,
Near Photographic Stunning Quality


8. FAST:
Last-Minute Orders in 1 to 2 days
from Press Ready "Press Ready" PDF files.


9. COST EFFECTIVE:
Order as low as 300 quantity
Print On-Demand, order only what you need, when you need and keep your Print Inventory current & up-to-date. Prevent waste and save storage space by eliminating excess and outdated print inventory.


How to Order
2 Simple Steps to Order:


1) Call 408-734-5505 or send an email to info@2DirectPress.com with your detailed job specification for a cost effective estimate.


2) Place order and email or upload "Press Ready" PDF files to our ftp site.

We accept Visa, MasterCard, PayPal & American Express Credit Cards.


Since 1985, your Satisfaction has been our Top Priority!



2DirectPress.com
A Service of Oakmead Printing Inc.
Providing Professional Class Printing since 1985
233-G East Weddell Drive
Sunnyvale, CA 94089
Tel: 408-734-5505
Fax: 408-734-3323
info@2DirectPress.com

©1997-2022 Oakmead Printing, Inc. All Rights Reserved


High Definition Digital & Real Offset Printing
Eco-Friendly
Vegetable/Soy Inks
90% VOC Reduction
Waterless Inks
No Waste Water
Chemistry-Free Plates
Direct Imaging (DI)
Computer to Plate
Exact Image Registration
Process Colors, CMYK
Spot Pantone Colors
Metallic Colors
Super HiRes 300 lpi
Quantities 300 to 20,000